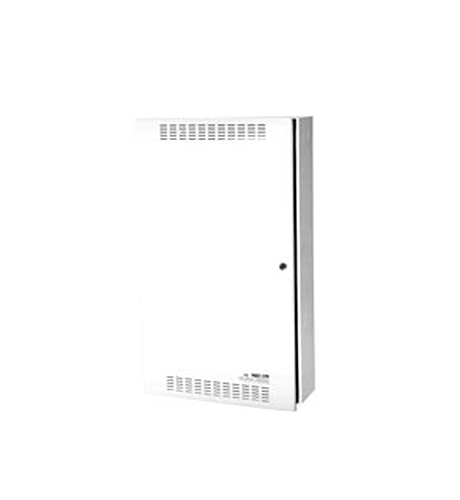 QX5000
Product Description
Mircom's QX-5000 Series is a multi-channel zoned audio voice evacuation system that allows the operator to selectively page from a central location to any of the system's audible devices.
In addition, the QX-5000 allows for zoned fire fighters' telephone communication with remote telephone handsets that are permanently installed throughout a building.
The QX-5000 Series consists of a card cage/audio motherboard, an audio/fire alarm interface board, power supply and battery charger which are designed to work with Mircom's FA-1000 or FX-2000 Series Fire Alarm Control Panels. In addition it can be integrated with other compatible fire alarm control panels. All hardware and software is fully supervised for correct and reliable operation.
The system has a simple interface to the fire alarm control panel, and contains its own power supply and battery backup system.
The QX-5000 Series Zoned Audio system requires one QIF-5000B Interface card which provides inputs for the fire alarm panel, the paging microphone and the zone paging module. In addition it provides an audio trouble output. Only one interface card is required per system, and it mounts in the first slot of the QMB-5000B Audio Mother Board and Card Cage.
One QIF-5000B will support seven QMB-5000B card cages. Each card cage has space for one interface card and seven QAA style amplifiers, for a maximum of 360 watts per cabinet.            

•    Single, Dual or Three Channel Operation
•    Zone or All-Call selectability (Alert/Evacuation)
•    Control of fire management operations
•    Zoned fire fighters' telephones capability
•    Provides single or multiple command centre(s) for use in emergencies
•    Multiple Building Interconnection (Campus Style)
•    Microprocessor-based operations with hardware and software Watchdog Timer to ensure system operation
•    Operates from 24 VDC backup batteries in the event of a power failure
•    Removable terminal blocks for ease of installation and maintenance
•    Indication of all required fault conditions
•    Speaker circuits are integrated with amplifier circuits
•    Multiple amplifier sizes (up to 7 per enclosure for a maximum of 360 watts per enclosure)
•    Maintains full supervision during battery operation
•    25 or 70 Volt System
•    Digitized Voice Capability
Related Products