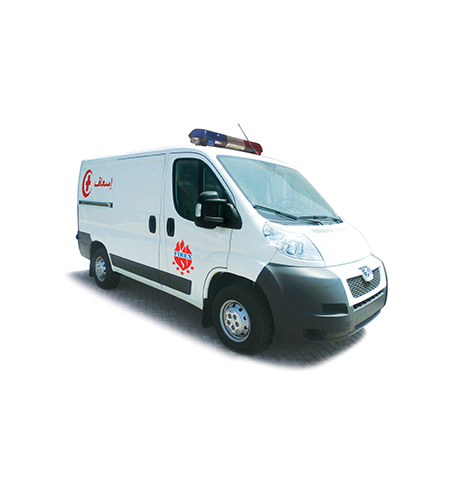 Peugot Boxer L2H2 Ambulance
Specification
Dimensions
Length/Longueur……….2,890m
Width/Largeur…………..1,394m/1,784m.
Height/Hauteur………..1,907m.
BASE VEHICLE
Boxer L2H2- panel van
Diesel engine
Color: white
Lateral sliding door
2 rear swinging glazed doors
Front air-conditioning, rear distribution.
•    Headlamps, side lamps, tail lamps, stop lamps, number plate lamps, and reflectors, reverse lights hazard warning lights.
•    Rear View camera and a 7" monitor in drive cabin
•    Time limit switch and a lamp for easily accept patient room
•    Radio AM/FM shall be provided
•    Air conditioning system in the driver's and patient is controlled separately
•    Heavy-duty three speed twin electric windscreen wipers.

Equipment
•    Fixed partition with glasses with frontal storage compartment,1 drawer, 2 storages closed by doors, one opened compartment for storage of emergency bag and 1 storage for portable chair. Upper part used as a working surface with anti-fall edges. Anti-sliding monobloc floor
•    On the floor : mobile support table for the stretcher with manual proclive/declive system.
•    Lower storage compartment composed of: Storage bin for the vaccum mattress, 2 open storages in lower part, 3 drawers, 1 storage for heater, one sink fixed on the work plan
•    Pivoting attendant seat
•    5*12 volts and 1*220 volts plugs
•    Rotating light
•    Emergency light bar integrated 2 rotating lights and warning signal
•    Rear air conditioning with evaporator on the roof.

Related Products