Welcome to Emirates Fire Fighting Equipment Factory LLC
(FIREX)
 Established in 1983, Emirates Firefighting Equipment Factory LLC (Firex) began its operations in Sharjah, in the United Arab Emirates (UAE) with a commitment to innovate and manufacture quality firefighting products while providing world-class quality services. The founder, Engineer Jamal Hussein saw the great need for fire safety in the rising buildings in the country. As one of the most respected engineers in the industry, Engineer Jamal Hussein had set high standards in the construction business. Engineer Jamal Hussein was one of the leaders for constructing many government buildings that still stand to date. Engineer Jamal Hussein demanded nothing less for safety and decided to create a company that would match the high standard he had set.  
Firex was awarded an ISO 9001-2000 Certificate of Approval in 2002 and has won many more awards emerging as one of the top leading manufacturers of Firefighting Equipment in the Middle East.
Firex provides various fire safety and firefighting equipment and systems that include custom-made vehicle such as fire trucks, ambulances, mobile maintenance vehicles as well as fire alarms, firefighting skids, fire pumps, voice evacuation systems, emergency light systems, fire rated cables, fire doors, foam systems, smoke and ventilation systems. 
Since establishment, Firex has expanded to become one of the largest professional companies in the field of Fire Fighting Industry in the Middle East region.
Firex has expanded and holds a strong international presence. Firex now has become the go-to solution for tailor-made solutions for today's fire safety and firefighting needs and offers high quality international standard products. Firex caters for markets in the MENA region as well as other international markets.  
With high-quality products and high standards in customer service, Firex has established great business operations and now operates globally with capacity for any sized project. To inquire about any product or services please visit our contact page and leave us a message. One of our agents will be in contact with you as soon as possible.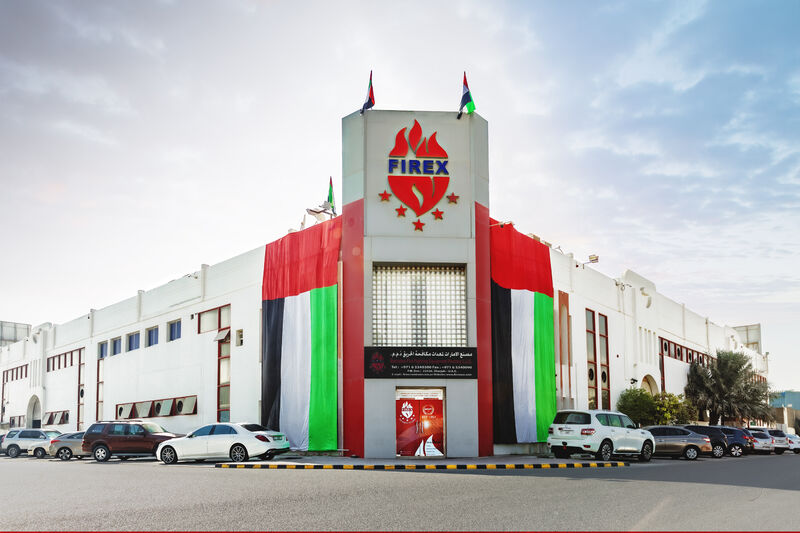 Why
choose

us

We are a choice who can make a difference

 

We serve to save lives and property
At Firex, we follow and enforce best practices to deliver high quality products and services. Firex has the capacity to cover projects of any scale.
Safety is our core value and we enjoy working with clients and companies who value safety for all.
Firex is a one stop solution for all fire safety needs. Our services include design, installation and maintenance. Our product manufacturing line ensures the highest quality product made using the latest technology and innovation. All our efforts are to help businesses across the globe to achieve their goals without loss of lives and property caused by fire.  
We are a dedicated team, your True partner and your one stop solution for fire safety products and services.


VISION
Towards a world class fire manufacturing industry
MISSION
To ensure safety, prevent fire and protect lives and properties with high international standards
CORE VALUES
Integrity
We are committed to honesty and maintaining the highest ethical standard when interacting with the public, our colleague and ourselves. We will perform with sincerity and openness to earn trust and respect of others 
Dedication
We will provide extraordinary service to our community while displaying pride and professionalism to our factory. 
Accountability
We hold ourselves to each other and the community through teamwork, participative decision making, continued training and education 
Loyalty
We are steadfast in our allegiance toward each other and in our duty to serve the community 
Service
We believe we have a duty to be involved in the community where we work. We are committed to fulfilling our responsibility and to deepening our involvement. 
Care
We view the people of our community and our visitors as friends who deserve caring and compassionate service.